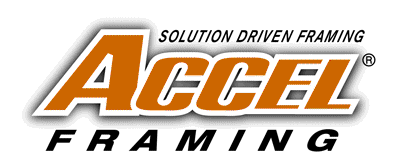 Accel Framing, Inc. ® providing Solution Driven® framing to Residential and light Commercial Builders in San Diego, Orange, Riverside and Imperial Counties.

A contractor with more than 20 personal years of experience in the local building industry, Accel Framing President, Ryan Holmes, is a proven, award winning business leader with a strong passion to build a truly great framing company. He states, "Building a great company never ends. A constant focus on improvement is just part of our job." Our paperless job estimating and costing methods are the first of many new tools we are implementing to decrease waste, increase productivity and to serve an eco-friendly environment.

We are very proud of the work we provide to our customer! Here is what you can expect from us:
Cleanliness - your homes are scrapped and swept daily and all trash is placed in your receptacles at the end of each day. We understand clean.

No call-backs - our goal is for you to only need to call us when you have another project for us to help you build. We make building simpler.

On time - a typical two story home can be brought "Trade Ready" to Roof and Shear Nail inspection in nineteen working days or less. You can count on us. On-budget - we stand behind our pricing and know how important it is for you and your team to make budgets come in. No surprises.

<![if !vml]> <![endif]> Take a look at what people are saying!! <![if !vml]> <![endif]> View our Mission Statement View our Featured Projects
In the building industry, framing sets the pace and standards by which all other trades will perform. An on-time, top-quality framing job is the backbone of your project. To ensure that your project gets the detailed attention, excellent service, high quality and value solutions you expect — call Accel Framing, Inc.
<![if !vml]><![endif]> 2733 Alpine Blvd., Suite 100,Alpine, CA 91901 tel 619-445-1340 fax 619-445-9340 License# 901574 <![if !vml]><![endif]>
Privacy information Copyright© Accel Framing, Inc. 2007. All rights reserved. Email us!